I really like fabric headboards; I'm especially drawn to fancy romantic looking ones. I was initially thinking about making a diamond tufted upholstered headboard but it just wasn't practical for me. The work looked overwhelming and the materials were outside of my budget.
I originally wanted something like this: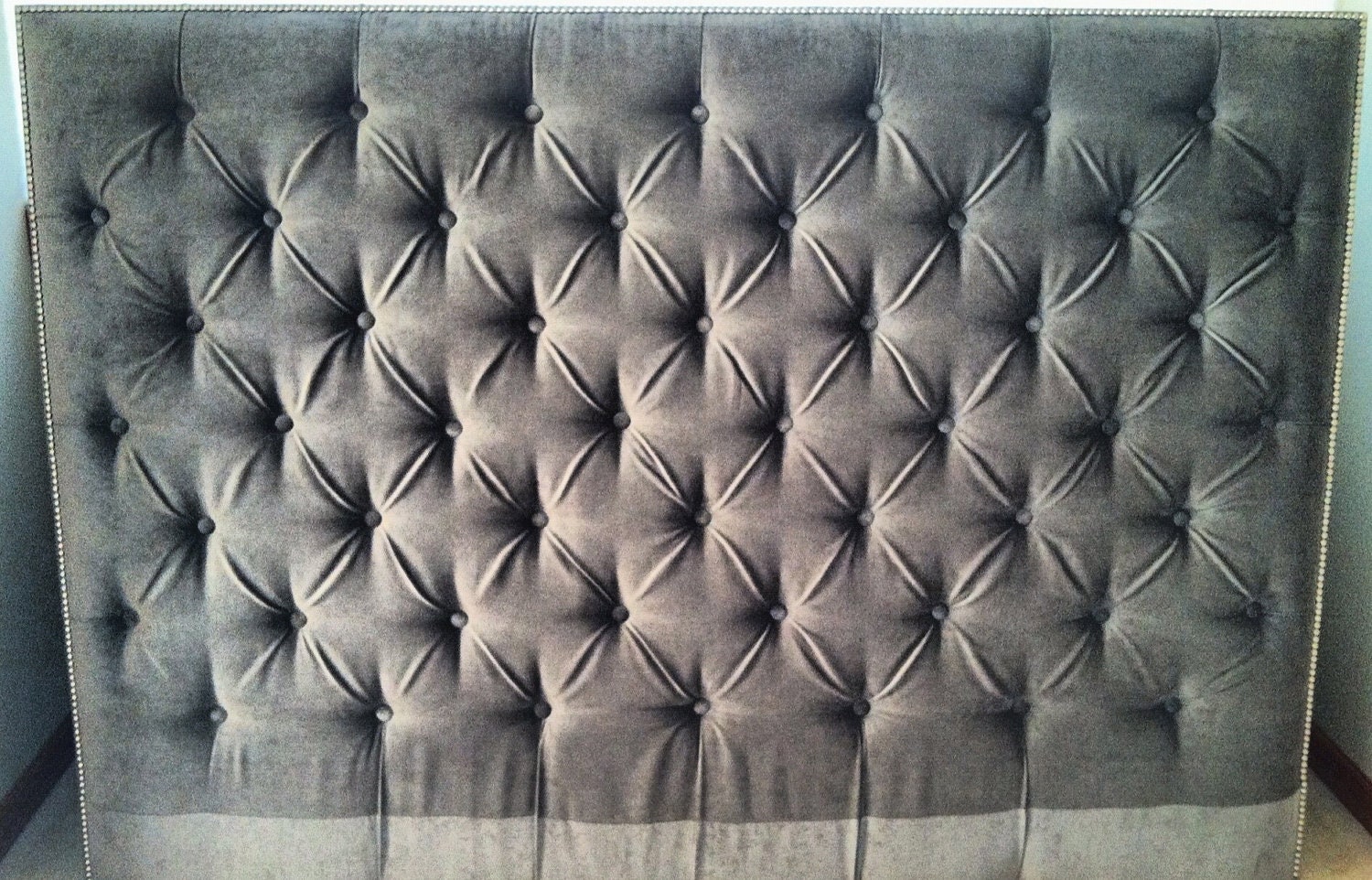 Image source:
http://www.etsy.com/listing/106938622/diamond-tufted-vintage-velvet-headboard
I was browsing for quite, trying to get inspiration online. I found myself drawn to (empty) picture frame collages. They would make a simple, budget friendly headboard. But it still wasn't me. Don't get me wrong, I love picture frame collages, just not right above my bed.
I will have to try this in another room. The paper wall is pretty awesome too…
After some late night brainstorming, I put the two ideas together. I decided to put fabric inserts in picture frames to give the appearance of an upholstered headboard…
My final product
…The next day, I rushed over to Goodwill in search of frames. I figured I'd probably have to thrift around for a couple weeks to find the perfect frames but I totally lucked in and found them all, just sitting there, waiting for me!
Aren't they hawt?! Do those velvet rims bother you, or is it just me? I REALLY want to know what was cut out of them. Did I miss out on some great vintage art? Or was it something so awful, it was unfit for human eyes? Ah, the things I think about…
After finding the frames, I headed over to Michael's to pick out some paint. I went home with a bottle of Martha Stewart multi-surface craft paint in light gold. Martha Stewart paint is a tad more expensive than some of the other craft paints at Michael's but it works the best out the ones I have tried.
Yikes, it looks a bit scary at this point.
I primed the frames, then started to paint on the light gold paint but didn't get far. The paint was too sheer, so I painted on some venetian gold paint (DecoArt brand) I had left over from my dresser. As you can see, I didn't paint it solid with the venetian gold. I just painted enough on to add some texture and darken the frame up a little bit.
I then painted on two coats of light gold paint. It showed up much better this time. To finish the frames, I painted on just a few light accents of the venetian gold (this time over the pale gold) and sealed with satin varnish.
If you want to make your own headboard, you will need to:
1) Remove the frame's insides..picture, glass, and cardboard backing. SAVE the cardboard backing and the glass. You will need this for a base behind your fabric.
2) Clean the frames thoroughly. I used rubbing alcohol; this gets rid of any thrift store nasties and helps the primer stick better.
3) Apply 1-2 coats of primer to the frames
4) Apply at least 2 coats of paint until you get the desired color/ even coverage. Normally, the 1st coat of paint will not be perfectly even. Don't worry, it will even out when you go over it again.
5) Seal with 1-3 coats of Polycrylic (or a water-based varnish.)
Spray paint or craft paint may be used. Always follow the manufacturer's directions to see if the paint is appropriate for wood, and allow it to dry the recommended amount of time.
I used acrylic craft paint because it's too cold here to spray paint outside and I don't mind the paint brush lines that come with hand painting. I think they add texture and character. But if you want a very smooth finish, I would recommend spray paint.
All finished! Now, it's time to add the fabric.
For this step, you will need fabric of your choice and quilt batting.
Place the frames on the fabric to use them as a guide for cutting the fabric. If you are working with a pattern ( like mine,) make sure to place the frames exactly where you want the pattern to show.
I spent about 20 minutes moving the frames around on the fabric to find the perfect layout. Yeah, I can be a tad picky.
I initially tried placing the frames so the full damask pattern would be showcased.
I was not a fan. The damask looked too big for the smaller frames. Plus, I prefer a more imperfect, rustic look.
By the way, I found an awesome deal on the lace! It was just over $6 a yard on clearance at Hancock's. That was by far the cheapest I found. Even at Walmart, cheap looking lace with a repetitive teeny tiny flower pattern was $7 a yard.
After placing the frames where you want, cut out the fabric. Be sure to leave plenty excess around the edge, this can be trimmed down later if necessary.
I cut my fabric layer by layer because I had awful $2 Walmart scissors. Ooh they were bad! They were dull and made a loud squeaky, snipping sound with each cut (think nails on a chalkboard.) Lesson learned: quality fabric scissors are worth the investment.
After the fabric and batting is cut out:
1) Layer in the following order: cardboard backing (from the frame) for a base, batting, then fabric.
2) Place in the frame.
3) Trim down fabric along the edges if necessary.
I had to modify mine a little. Two of my frames didn't have any cardboard backing in them. For these, I used the frame glass as a base. Also, three of my frames didn't have tabs on the back to hold everything in place so I used duct tape. Fabulous, I know. But no one sees the back anyway. If desired, the tape could be covered up by cutting out a piece of poster board to fit over the back and gluing it in place.
This one is pretty puffy. I may have gotten lazy about trimming off excess fabric. Surprisingly, it still hangs flat on the wall.
To hang the frames, I would recommend using no nail picture hanging strips by Command 3M. Place one strip at the top and bottom of each frame. It's a bit tricky getting all the frames lined up. The strips will save you time, and keep you from putting 200 nail holes in the wall trying to get it all even.
This headboard can easily be updated for a new look by rearranging the frames or swapping out the fabric. Here is one example of an alternate arrangement:
I tried it like this first but didn't care for the large white space in the middle. Um yeah, those pink pillows had to go.
Here's an easy fix for the white space:
1) Have some trim cut to fit between the two bottom frames (obviously not the trim pictured)
2) Cut a piece of plywood to fit behind the frames
3) Glue or staple fabric on the plywood to fill in the empty spot
4) Use a nail gun to attach the frames and trim to the plywood
This is something I will probably do in the future, but for now, I'm happy with the headboard the way it is.
And that's the story of how my sort of upholstered headboard came to be. It only cost about $25 to make it! What do you think of it?
Thanks for reading,
PS: To comment as a guest (without signing into an account,) please select N
ame/URL
from the dropdown menu. The URL field can be left empty. Thanks :)